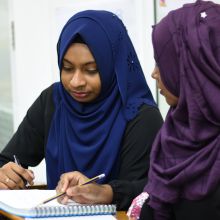 OBJECTIVES
The course is so designed to develop the graduates to learn about the management of information in organizations by understanding systems concepts, communications and information technologies. You will also develop a detailed understanding of the relationships between business organizations, information and technology, and also how individuals and groups operate within an organization.
The overall aim of the entire module is to expand entrepreneurship development activities by providing training to potential learners to become job creators rather than job seekers and by providing flexibility to suit the needs and aspirations of different categories of learners. Also by making a sizeable contribution quantitatively and qualitatively to the task of strengthening the Software Engineering sector in the country.

ENTRY CRITERIA
Successful Completion of Higher Secondary Education OR
Attainment of a Level 4 qualification in a related field OR
Attainment of a Level 4 Foundation Study Program approved for the specific Diploma program.
ALTERNATIVE CRITERIA
Completion of a Level 4 qualification (unrelated),and successful completion of an MQA approved University Preparation Program OR
20 years old, completion of secondary school,2 years of relevant work experience, and successful completion of an MQA approved University Preparation Program
DURATION : 3 YEAR
YEAR-1, DIPLOMA-L5
FEE: 2350/- PER MONTH
ADMISSION FEE: MVR 500
YEAR-2, ASSOCIATE DEGREE
FEE: 2500/- PER MONTH
ADMISSION FEE: MVR 500
YEAR-3, DEGREE FINAL YEAR
FEE: 2800/- PER MONTH
ADMISSION FEE: MVR 500


MODULES
Semester 1
Elementary Programming In C
Building Next Generation Websites
Effective Communication Skills
Designing and Publishing Web Sites
Project – Website Development
Semester 2
Database Management
C# Programming
Windows Forms Programming using C#
Advanced Windows Forms Programming using C#
Introduction to Cloud Computing
eProject – .Net
Semester 3
Working with MySQL
Web Development with PHP
Software Engineering Principles
Software Project Management and MS Project
Project
Semester 4
Mathematics for Business Decision
Online Marketing
E-Commerce Concepts
Project
Semester 5
Business Ethics
Search Engine Optimization
Management Information Systems
Project
Semester 6
Server Side Application Development Using ASP.Net
Database Connectivity Using ASP.Net
Learning ASP.NET AJAX
eProject – .Net