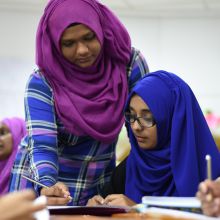 OBJECTIVES
The Bachelors in Graphics and Multimedia is a graduate program, which enhance participant's creative design for the nation, corporate industry and multiple design software skills. This course will expand your thinking about animation, interaction, and multimedia projects. The course ensures that you keep up with the latest technology trends by incorporating the very latest technologies. Graphic design and multimedia programs will first cover the fundamentals of drawing and design, digital imaging and color theory. Also teach digital illustration, concept development, and typography and Photoshop skills. Students will learn about electronic design, production procedures, building corporate identities and the fundamentals of how the World Wide Web is designed and operates.
ENTRY CRITERIA
Successful Completion of Higher Secondary Education OR
Attainment of a Level 4 qualification in a related field OR
Attainment of a Level 4 Foundation Study Program approved for the specific Diploma program.
ALTERNATIVE CRITERIA
Completion of a Level 4 qualification (unrelated),and successful completion of an MQA approved University Preparation Program OR
20 years old, completion of secondary school,2 years of relevant work experience, and successful completion of an MQA approved University Preparation Program
DURATION : 3 YEAR
Year-1, Diploma-L5
Fee: 2350/- Per month

Admission Fee: MVR 500
Year-2, Associate Degree
Fee: 2500/- Per month
Admission Fee: MVR 500
Year-3, Degree final year
Fee: 2800/- Per month
Admission Fee: MVR 500


MODULES
Semester 1
Concepts of Graphics and Illustrations
Image Magic
Principles of Animation using Toon Boon
Video Streaming and Editing
2D Animation Portfolio
Semester 2
3D Basics – Modeling to Animation
Modeling with 3D
Lights, Camera and Materials
3D Motion Graphics & FX
3D Animation Portfolio
Semester 3
Modeling with Maya
Texturing and Paint effects with Maya
Lighting and Rendering with Maya
Rigging and Animation with Maya
Portfolio Demo Reel
Semester 4
Modeling with Z brush
Advanced Sound Designing
Digital FX
E-Commerce
Project
Semester 5
Media Management
Visual Communication
Cinema 4D
Basics of Videography & Photography
Research Methodology
Semester 6
VFX Compositing with Nuke
Event Management
Broadcast Journalism
Internship in Media
Portfolio Development