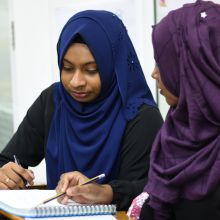 OBJECTIVES
The Diploma in Primary Teaching Course provides an intensive and highly challenging programme that equips student teachers with the knowledge, skills and abilities necessary to become primary teachers. The qualification covers theories related to child development, pedagogical approaches appropriate for primary education as well as content areas that are necessary to teach in primary schools.
Apart from this, student teachers would also gain valuable practical experiences in primary classrooms and relate theory to practice as they work with experienced teachers. Therefore, the knowledge, and skills developed through the course would enable students to develop the essential skills of communication, planning, teaching and assessment that teachers will need in practice.
ENTRY CRITERIA

Completion of Higher Secondary Education OR
Attainment of a Level 4 qualification in a related field OR
Attainment of a Level 4 Foundation Study Program approved for the specific Diploma program.
ALTERNATIVE CRITERIA

Completion of a Level 4 qualification (unrelated),and successful completion of an MQA approved University Preparation Program* OR
20 years old, completion of Secondary School ,2 years of relevant work experience, and successful completion of an MQA approved University Preparation Program
12 Months
DURATION : 1 ACADEMIC YEAR
Monthly Fees : MVR 28200/- (Payable in 12 Installments)
Admission Fees : MRF 500/-
MODULES
1. Teaching English
2. Teaching Primary Mathematics
3. Teaching primary science
4. Teaching primary social studies
5. Teaching primary creative arts
6. Teaching primary health and physical education
7. Teaching and learning studies
8. Classroom management
9. Practicum 2 for primary