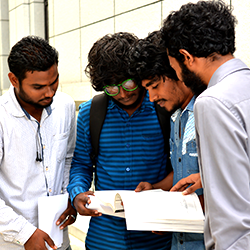 OBJECTIVES
Candidates will be developing the skills and knowledge in the human resource area and the other functions of the business. Develop and manage strategies from a holistic perspective. Understand to able to manage the processes of "recruitment", "selection', "assessment", "performance" and "reward" of an organization. And also the process of training and development. Successfully manage the Human Resource Management function of an organization under varying circumstances and contexts with an understanding of the influence of key issues such as diversity (issues related to race, gender, culture and age), newly emerging international markets for labor forces, etc. Be at the forefront of change management within organizations.
ENTRY CRITERIA
Successful completion of Higher Secondary Education OR
Attainment of a Level 4 qualification in a related field OR
Attainment of a Level 4 Foundation Study Program approved for the specific Diploma program.
ALTERNATIVE CRITERIA
Completion of a Level 4 qualification (unrelated), and successful completion of an MQA approved University Preparation Program OR
20 years old, completion of secondary school, 2 years of relevant work experience, and successful completion of an MQA approved University Preparation Program
DURATION : 1 ACADEMIC YEAR
Monthly Fees : MVR 28200/- (Payable in 9 InstallmentS)
ADDMISSION
FEES : MVR 500/-




MODULES
Business English
Introduction to Business and Business Planning
ICT for Business
Organizational Behavior
Introduction to Business Statistics
Managerial Economics
Business Negotiating
Marketing Management